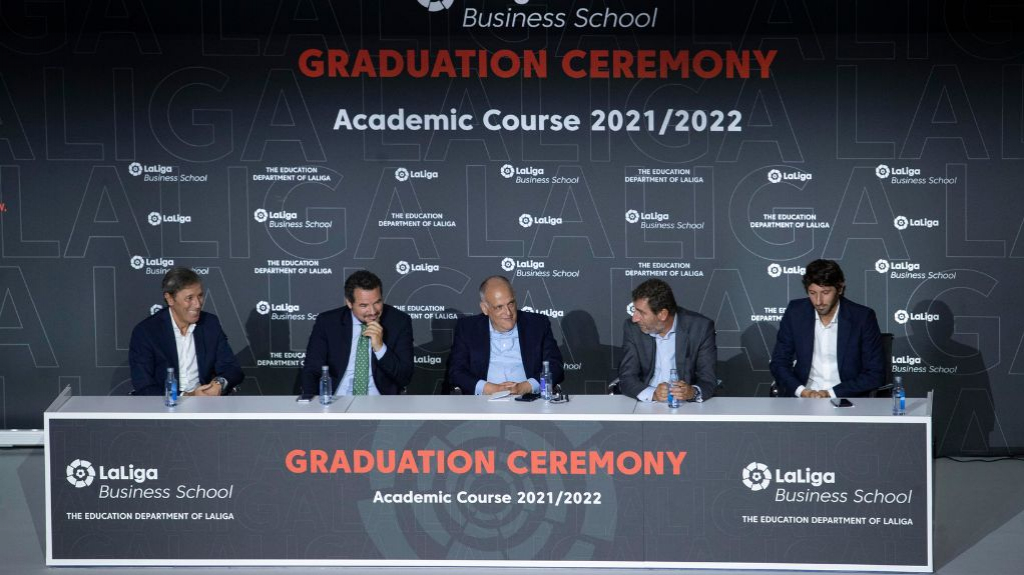 General
Season 21/22 Graduation
23/09/2022
LaLiga Business School, LaLiga's Education Department, celebrated the graduation of its fourth season
LaLiga Business School, LaLiga's Education Department, celebrated the graduation of its fourth season, a very special event that was attended by great personalities such as Javier Tebas, president of LaLiga, José Moya, director of LaLiga Business School; Félix Suárez, director of Postgraduate Studies at the Francisco de Vitoria University, Esteban Granero, former LaLiga footballer and journalist Paco González. And big surprises from the other side of the world, such as Juan Mata, currently playing for Galatasaray (Turkey) and a student of the first MBA of LaLiga, who did not want to miss the graduation even when he was more than 3,000 km away.
The Cívitas Metropolitano welcomed more than 130 students from 14 different nationalities, including Spain, Italy, Portugal, Sweden, the United States, India, Mexico and Argentina. A total of 137 students have been part of the fourth generation of students of LaLiga Business School among all its masters, MBA of LaLiga; Master in Management, Methodology and Analysis in Football; Master in Law applied to Professional Football; Master in Global Sports Marketing and Master in Sports Marketing of LaLiga.
A season marked by two fundamental milestones, the first, the return to normality post-pandemic, thanks to which our students have been able to enjoy the trips included in the programs, among which we highlight Qatar, the United States and Europe. And secondly, the incorporation of the first MBA of LaLiga, designed and managed entirely by LaLiga, taught in English and which has brought together 25 students of 6 different nationalities.
Thank you very much to everyone for being part of LaLiga Business School and making this special event possible. Thanks to all the sponsors and speakers, Javier Tebas, José Moya, Félix Suárez, Paco González, Esteban Granero and Juan Mata. But above all, good luck in your new stage to all the students. LaLiga Business School will always be your home.